Description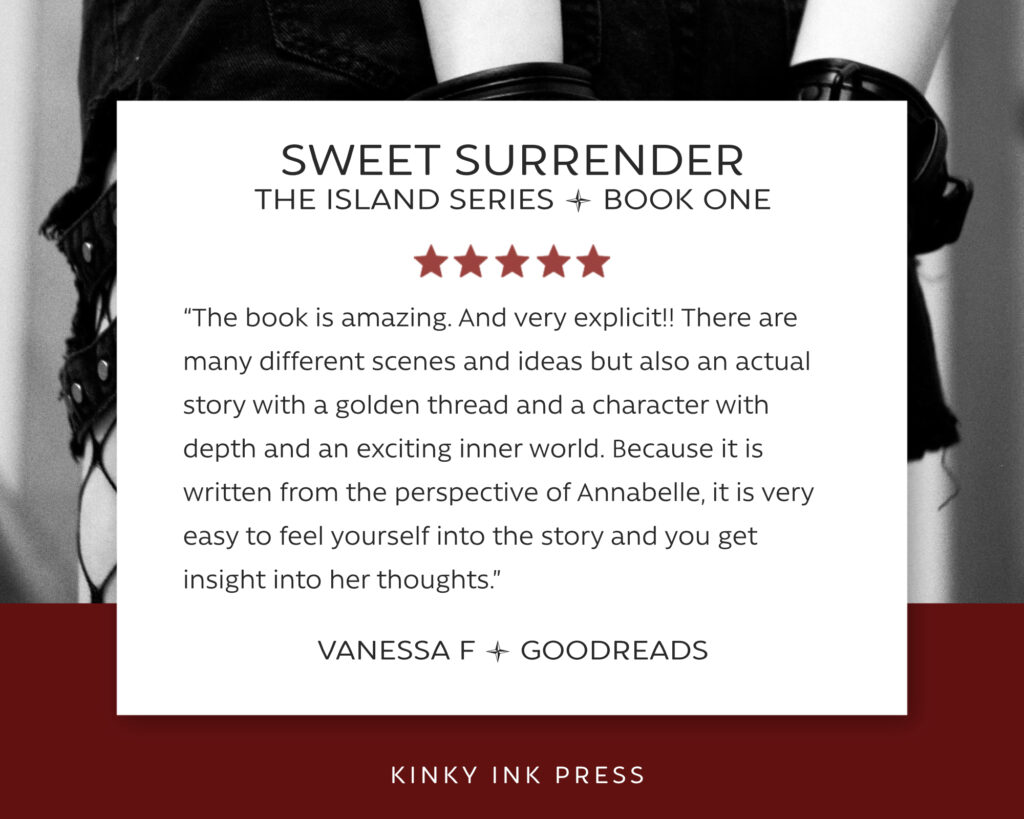 Enjoy signed copies of the complete Island Series!
Email me at connect@kinkyinkpress.com with EXACTLY who you want it dedicated to AND the name and address where it's being sent. If I don't receive an email, I'll simply sign eroticwritergirl.
Personalize the dedication if you want. This will ship directly to you from me – gift wrapped and all.
Each book can be read as a stand-alone however they're much more enjoyable when read in order. Each book is novel-length (70,000+ words each) and softcover.
BOOK ONE
Imagine a world where women are considered property.
A tale of a woman's journey to complete surrender.
On an impulse, Annabelle signs over her rights for six months to become a submissive woman on a remote island where women are considered property and are auctioned off upon arrival. She had always wondered what it would be like to surrender herself so completely and decides it's time to give in to her deepest desires. She didn't fully understand what she was stepping into but she knew she would never be the same.
BOOK TWO
Annabelle had given up everything to come to the island where women are considered property and where she could give into her deepest desire to completely surrender. She never expected to fall in love with her owner's brother Luke.
She had given everything to him except her commitment to renew her six month contract that's up in two weeks. Torn between the decision to return to a normal life back home or to stay with the man she loves, Annabelle must make the decision that will change her life forever.
BOOK THREE
Now that Luke and Annabelle have become a couple, Riley wonders where that leaves her in their relationship. Suddenly she feels like a third wheel and wonders what her future will look like on the island if she decides to stay.
While silently lusting after one of the trainers at the facility, Riley's world turns upside down when one of the less than desirable potential investors of the island sets their sights on her. She's torn between giving in to her true submissive desires and accepting being sold off to him or leaving the island forever.
Want to save 25% right now? Join the official Kinky Ink VIP Tribe. You'll receive 25% all your purchases FOR LIFE as well as first glimpses at new products, snippets of erotica and more. Click here to join.
SHIPS DISCREETLY in a plain padded envelope via media mail.
THANK YOU + NOTES
Thank you for shopping with me. I welcome all suggestions and feedback.
> All three books are paperbacks, US trade size (6″ x 9″).
> If you have any problems or issues, please let me know and I'll do my best to resolve it.
> No returns on personalized items.
> Always shipped discreetly with the return address EWG.